Travel Concept : The Success Story of Airbnb
Unknown in Europe only two years ago, Airbnd has become the number 1 place to check before leaving on vacation. For those who never heard about it, the innovative website enables you to rent houses from people in over 34,000 cities and 192 countries around the world during your vacation time or to rent your own. Renting a loft in New York, a villa in the South of France, a castle in Spain, everything is possible on this website. Founded in 2008 by three American designers from San Francisco, the worldwide platform seduced 4 million travelers (3 millions in 2012!). The success of this concept is based on a famous Marketing technique : Users' recommendations.
The website started as "Air Bed" to become "Air Bed & Breakfast" and finally the name that we know now : Airbnb. Its success is based on an elaborated business model and marketing strategy : "The concept is simple : You broaden the vision that people have by making them rent their home seasonally. We make money out of the commissions we take on the rental of houses and we offer the services of professional photographers to take pictures of the house in order to value it", Nicolas Ferrary explains (the French director of Airbnb). If the concept experienced a big success in the US straight away, it took longer for it to appear in Europe.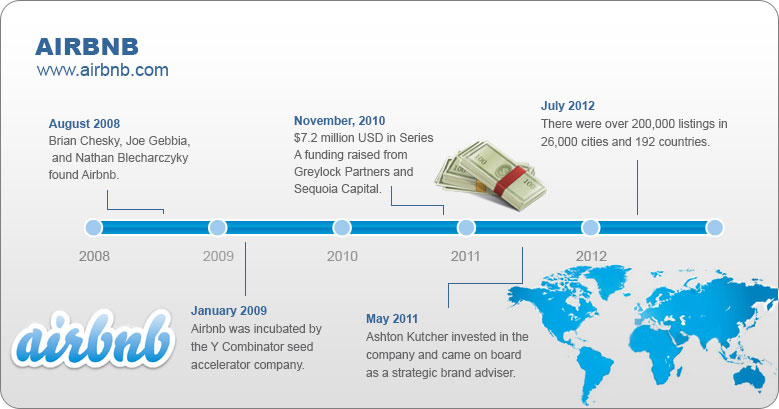 In France, it is just starting to get real : 300,000 travelers used Airbnb during the year. Each user than posts on the website is responsible for its house and its rental price. Airbnb is just the missing link between offer and demand. Their terms and conditions are very strict. "We are counting on auto-moderation and on the sense of hospitality of each member, and we already had to remove some posts, but we don't have to do it frequently", Nicolas Ferrary adds.
The website needs to communicate and the best way to do so is word of mouth. A team of three people is traveling through France to convince future members to join the service. The main argument of the website? To Earn money while traveling. "Airbnb is based on a collaborative consumption model". A partnership program is also available to reward the members. An algorithm improves the ranking of the most welcoming ones, based on users' comments and recommendations.
You can rent nearly everything on Airbnb : A private island of the Fiji Islands, a yurt in Brittanny, a plane cockpit, and much much more. In their offices, located in the 9th district of Paris, one can find surprising notes on the wall of the conference room. Here too, everything has been conceived like an 200 square meters apartment : Kitchen, kids bedroom, office, dining room…
French version of the article : Here
Community
Did you ever used the Airbnb service? How was your experience?
Want to discover more articles about travel tips and awesome concepts? Check out our Travel Blog section !
You're a music addict? Listen to our playlists or check out our music section !
Join the community and suggest new artists !