Unusual seoul – A sheep cafe in Seoul !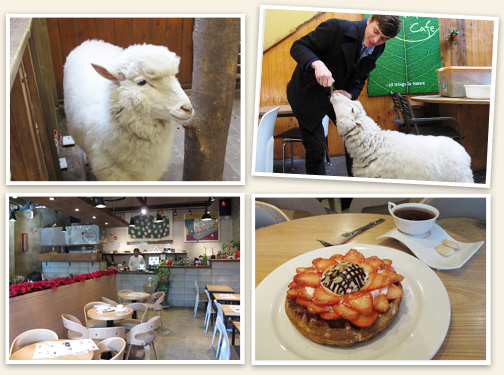 Yes, after the Cat cafe, the Hello Kitty Cafe and the Charles Brown one, here is…. drumroll… A SHEEP cafe! Yes, yes, it's still in Hongdae, one of the most fashion-oriented district of Seoul! This cafe got so famous that it got featured in many foreign media and in the TV show "We Got Married" ! Beware though, you will not be able to see the sheep during summer since they return to their farm in Gangwon-do during that time.
At "Thanks Nature Cafe", you will be able to see 2 happy sheep looking at you while you're having a drink, a bunch of hipsters and a very friendly staff ! You will be able to order food and delicious drinks such as the best coffee in Korea (Terrarosa) or an Oreo smoothie!
What you need to know :
Opening hours : 11am – 11pm
Address :  (Seogyo Prugio Apartment store B121) 121 B1, 486, Seogyo-dong, Mapo-gu, Seoul-si
From Line 2, "Hongik subway station" : "Walk straight and take the next main left turn, the road has a gentle uphill incline and it's not the easiest to spot but it's signposted "Thanks Nature" and is downstairs off the main street"
Price range : From 3,500 wons for an Americano to 9,000 wons for a Strawberry waffle.
Community Talk :
Have you been there? Are you planning on doing so? What do you think of the concept?